This post contains affiliate links. Which means I will make a commission at no extra cost to you should you click through and make a purchase. Read the full disclosure here.
Websites with blogs have 434% more indexed pages. Besides, there are over 409 million blog readers globally. Phew! That's huge!
Besides, if you want Google to take note of your website, you need a ton of relevant content it can crawl and index.
Have you looked around the internet lately? Blogs are everywhere!
Even many social platforms are building in blogging to help expand the marketing pool. 
What's more it's super simple to get one started. In this post, I walk you through the three simple steps that will get you started. 
Why Does Your Business Need a Blog
A blog is versatile. It can help you grow your brand, audience and income. You can also use it to promote your products and services. 
I began blogging in 1997, but blogging has come a long way since then. Right now, I run one on this site and keep a website without a blog for my writer profile. Still, besides blogging on my own site, you might see me on Medium and, of course, client sites. 
When you are weighing whether to become a website with a blog, your brain might be spinning with questions. Is the time you will spend developing and writing it going to pay off? What are the benefits and what is the ROI? 
Business marketers who prioritize blogging see 13X a positive outcome in blogging ROI. Besides, blogging is the most effective form of content for generating awareness.
When you consider people actually view over 20 billion blog pages each month. It's a great incentive to begin a blog.
Here are a few key benefits of blogging for you to consider:
Blogging Gives a Boost to Your SEO
Search Engine Optimization since your site stays active, it lets you target more keywords, keeps visitors on your site longer and creates opportunities for backlinks. 
Your Brand Is Strengthened
Besides building your reputation with the Google god, blogging helps build your reputation with your customers. Each blog post is an opportunity to share your brand's values and personality with your blog readers. 
Demonstrate Your Expertise
Blog posts are a great place to show you have expertise in your field. For example, if you're a cook you can provide expert advice and recipes in your blog posts. If you are a personal trainer, you can use your blog to provide meal plans and at-home workouts.
Having a blog means you become an excellent source of information and advice for your readers. 
Make a Connection With Your Readers
A blog strengthens your connection with your customers. The comments section becomes a new place to interact directly and respond to concerns or problems they may be experiencing. It lets you know what questions your customers have and that makes for more excellent blog posts. 
It also provides many opportunities to appreciate and thank your customer for their loyal patronage.
Adding a Blog to Your Business Website
When you start a business, it's critical that your messaging is clear and focused. It's the foundation for your business. And it's also the topic or blog niche for your blog. If you're planning to just start a blog as a business it's the most vital part you need to get it started. 
When I began writing/blogging it was for fun. I wrote on popular topics, politics and projects my husband was involved with. When I made the move to make it a business, I was a bit lost. So, I wrote on what I knew, technology and blogging. These days I write on a great number of topics, but it has taken a while to get there. 
If your plan is to leverage your blog to generate customer leads for your business, whether that's a blogging business or commercial enterprise, my suggestion is:
Use your  business, service or products and write about them

Provide help in areas you know your customers may struggle

Write in your money making niche
Examples of a paying niche are social media, freelance writing, and email strategy. Find the pain points in any of them that you experience, chances are others are having them as well. 
You may be wondering where you should search for a niche. Begin with what you have expertise in. For me, as I learned more about marketing my website and blog the more I was interested in writing. Add in the tech I learned as a information technology professional and that led to a lot of topics for me to write about and offer as a service.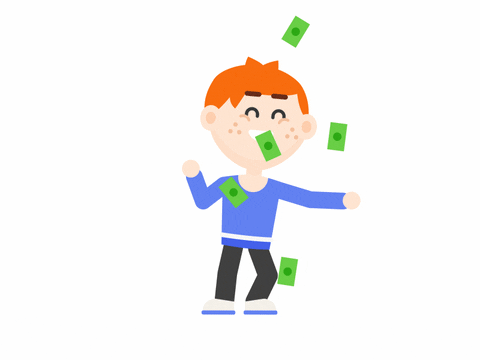 Making Money Writing
If you are planning to make money writing as a freelance writer, you'll need to choose a niche that's profitable. Some niches pay writers big bucks for every blog post or article, hundreds of dollars literally. 
How do you know if your niche topics are profitable?  You'll need to do some research to figure it out. Here are few places to begin:
Check out some Facebook groups to learn what people are struggling or facing challenges with

Job boards will reveal if companies are searching for writers in your topic area

Look on Twitter, or search your niche with a hashtag (#) to see what people are sharing
This will also give you an idea if your niche is popular and needed online.
Head over to ConvertKit to see its list of common blog topics that are written about both by professional bloggers and not-yet professional bloggers. You can also do Google searches for popular blog topics and create your niche from that list.
You know you're ready to start your blog once you've chosen your service and topic. Here are a few examples for you:
If you write about information technology a

info-tech blog

will show off your expertise on this topic

If you think being a

lifestyle writer

is more your jam, why not start a blog on your favorite passion. There are so many topics here, I'm not even going to start. 

Are numbers and finance your thing? Being a

fintech writer

or

finance writer

or even a writer for the

cryptocurrency industry

may be in your future. It all starts with a finance blog?
There is a world of blogs in every category that you can start. These examples are a mere drop in the ocean. The critical thing to know is to find that topic that will provide money making opportunities so that you make money writing.
Choose a Domain Name
Choosing a domain name can feel like an enormous challenge. The name should represent your blog and business. 
Start thinking about your product or service and write down a few options. I have had a few fails along the way. Mostly because I went too big too early. One was Outrageous Copy everyone said it was a great name, but it fell flat. 
You want a name that is representative of you and your business. 
When I started shopping for a domain registrar I read a lot of blog posts who suggested Bluehost or SiteGround. And these are great, depending on your budget. If you can afford to pay for a year at one go these are great, but if you're looking for a host that will let you pay monthly at a reasonable rate, I recommend DreamHost. And that's the one I use. 
When choosing your domain name:
Make it simple to spell and pronounce

Keep it short, imagine an email address like kelly@kellycanwritealldayandallnight.com. Painful!

Your name is another excellent option (if you can get it). Add your middle initial like if just your first and last aren't available Spin different ending to your name that include adding biz, writes, blogger, business, blogging, content, etc.. 
One thing to consider when choosing your domain name is to also think about your social media names. Why? Marketing your new biz is going to mean social media. 
I have often worked backwards and checked the socials before checking if the domain is available. 
Never forget that your blog provides many chances for you to share your writing, and make connections with others. You may find that you will find many of  your connections on social media sites like Facebook, Twitter and Pinterest.Don't get overwhelmed. You don't have to do everything. Find the mix that works for you and just do that. What do I mean? If Facebook and Twitter seem to be enough for you, do that. You don't have to be on every social network there is, unless you want to and can manage it.
Pick a Blogging Platform
Websites with blogs are built on specific platforms. Imdad Writes is built on WordPress.org and if I'm being honest most of my websites have always been there. I have tried out a few other platforms along the way, like Joomla and Blogger. I always felt they were a lot of work and Blogger never looked as nice on the front end as the others. 
When you choose WordPress.org as your blogging platform it means your site is self-hosted. It also lets you keep full control over your content and monetization strategy. 
If you decide you want to provide a freelance writing service in addition to having a blog, a self-hosted site is the most likely your BEST option long term.
And while there are other platforms you can use aside from WordPress.org – Wix or Squarespace for example. Consider these critical reasons that show why you should choose WordPress DreamHost:
WordPress has a huge user community. If you have a problem or a question you're going to find the answer quickly in a youtube video or blog post. 

Over 455 million

websites

use

WordPress

WordPress has a huge repository of plugins and themes that make customizing your site uber simple. 

Dreamhost support is awesome and they are ready to help with your WordPress installation and more. 
When you get your website with a blog for your service-based business started put it in the comments. I would LOVE to see it!
Hi I'm Lori and I'm a freelance writer, business and info-tech blogger. I also work with people just like you to help them become a profitable freelance writers. Ready to get started? Let's Chat. 
Hi I'm Lori and I'm a freelance writer, business and info-tech blogger. I also work with people just like you to help them become a profitable freelance writers. Ready to get started? Let's Chat.